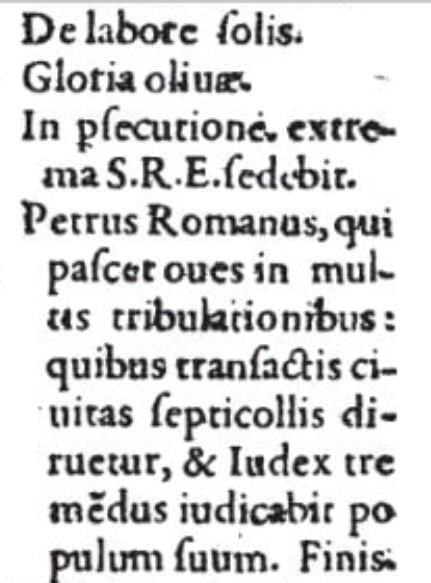 As highlighted in my article of 15 September 2020 (1), it is clearly "GLORIA OLIVAE" (or BENEDICT XVI!) Who "IN PERSECUTIONE EXTREMA S.R.E. (Sancta Romana Ecclesia) SEDEBIT ".

As you can see, there is in fact no mention / possible reference to another character besides Gloria Olivae! (the horrifying and absurd possible reference to "Francesco" does not exist!).
It follows that (2):
1) Benedict XVI is not only the last canonically elected pope but
2) he is also the one who reigns during the extreme persecution of the Sancta Romana Ecclesia!
So it is equally clear that:
3) we are living in the last days of the antichrist;
4) we must fight with all our strength (i.e., in prayer) against satan and his followers, who are the very powerful of the world. They are those who want to impress (i.e., inject) us with the sign of satan and finally subjugate us to their tyranny!
Come on, let's rebel!
____________________________________
(1) NUOVA SENSAZIONALE INTERPRETAZIONE DELLA PROFEZIA DI SAN MALACHIA, by Max Tex 15 settembre 2020
(2) La questione delle profezie di Malachia e l'ultimo papa "in persecutione extrema", by Max Tex, 21 agosto 2021