New speech by Archbp. Carlo Maria Vigano (22 September 2021) presented at the Meeting of the Coalition For Canceled Priests (*) (22 September 2021), a US organization for the support of priests "canceled" by the false church of Bergoglio.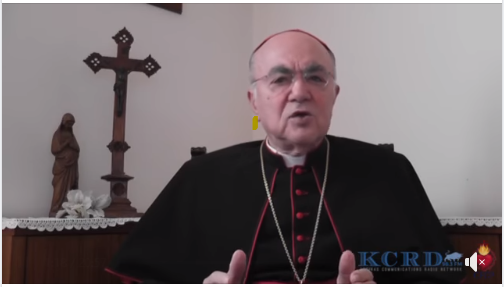 Speech
"The Church of Christ is undergoing a very serious crisis." -Archbishop Viganò Yesterday, September 22, the CFCP attended the annual fundraiser for Aquinas Communications and FM 98.3 KCRD. Our co-founder, Fr. Lovell, spoke at this event which took place in Dubuque, IA. Archbishop Viganò sent in a very, very special video where he highlights that the deep church has surrendered itself to the deep state (**).
SUMMARY
The false church originates from VC2
It overturned the values: those which were very serious mortal sins have become virtues
It criminalized priests faithful to Christ by expelling them from the Church
It promoted sodomite prelates and/or followers of LGBTQ gender.
THERE IS NO POSSIBILITY OF DIALOGUE WITH THE FALSE CHURCH!
BUT LET US PRAY FOR THE CONVERSION OF THE MANY RELIGIOUS (PEOPLE) WHO HAVE BEEN PERVERTED BY IT!
It is therefore our duty:
to condemn the false church promote dissent against the false hierarchy that guides it
to financially support the priests who have been canceled and expelled from the false church
to recreate a community of solidarity among the true faithful to Christ, the true Church!
______________________________
(*) https://www.facebook.com/canceledpriests/
(**) vedere anche:
e FB link:
https://www.facebook.com/canceledpriests/videos/82292895173175