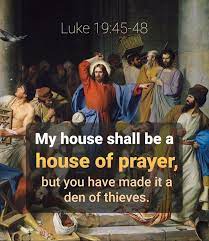 'My house is a house of prayer,' but you have made it a den of thieves.
Evangelium Luc 19:41-47
In illo témpore: Cum appropinquáret Iesus Ierúsalem, videns civitátem, flevit super illam, dicens: Quia si cognovísses et tu, et quidem in hac die tua, quæ ad pacem tibi, nunc autem abscóndita sunt ab óculis tuis. Quia vénient dies in te: et circúmdabunt te inimíci tui vallo, et circúmdabunt te: et coangustábunt te úndique: et ad terram prostérnent te, et fílios tuos, qui in te sunt, et non relínquent in te lápidem super lápidem: eo quod non cognóveris tempus visitatiónis tuæ. Et ingréssus in templum, cœpit eiícere vendéntes in illo et eméntes, dicens illis: Scriptum est: Quia domus mea domus oratiónis est. Vos autem fecístis illam speluncam latrónum. Et erat docens cotídie in templo.
Léctio Epístolæ beáti Pauli Apóstoli ad Corinthios
1 Cor 10:6-13 – Tentátio vos non apprehéndat, nisi humána: fidélis autem Deus est, qui non patiétur vos tentári supra id, quod potéstis, sed fáciet étiam cum tentatióne provéntum, ut póssitis sustinére.
OMELIA DI DON ENRICO RONCAGLIA
La liturgia ci fa riflettere sulla visita del Signore a Gerusalemme. Gesu' piange perche' Gerusalemme non ha accolto il saluto di pace degli Ebrei, shalom! Nemmeno la salute! Quando ci visita davvero la nostra persona ci viene risanata. Siamo negli ultimi tempi: ovvero dopo l'ascensione di Gesu' attendiamo il suo ritorno. Dobbiamo essere forti nella tentazione. Il Signore ci prova con le difficolta', ma superandole sapremo raggioungere la nostra meta. Tutto cio' con la Grazia, i doni spirituali e anche materiali che Gesu' ci da. E' importante pero' che riconosciamo la Grazia ricevuta e ringraziamo percio' Gesu' stesso! Gesu' ci chiede di essere accolto e ringraziato. Siamo negli ultimi tempi e quindi imploriamo e accogliamo la sua Grazia. Non possiamo chiedere di avere Dio al nostro servizio, ma dobbiamo noi stessi seguirlo!
Sia lodato Gesu' Cristo!
HOMILY BY DON ENRICO RONCAGLIA
The liturgy makes us reflect on the Lord's visit to Jerusalem. Jesus weeps because Jerusalem did not accept the greeting of peace of the Jews, shalom!
Not even health! When he really visits us, our person is healed. We are in the last times: that is, after the ascension of Jesus we await his return. We must be strong in temptation.
The Lord tries us with difficulties, but by overcoming them we will be able to reach our goal. All this with the Grace, the spiritual and also material gifts that Jesus gives us.
It is important, however, that we recognize the grace received and therefore thank Jesus himself! Jesus asks us to be welcomed and thanked.
We are in the last times and therefore we implore and welcome his Grace. We cannot ask to have God in our service, but we must follow him ourselves!
Praised be Jesus Christ!