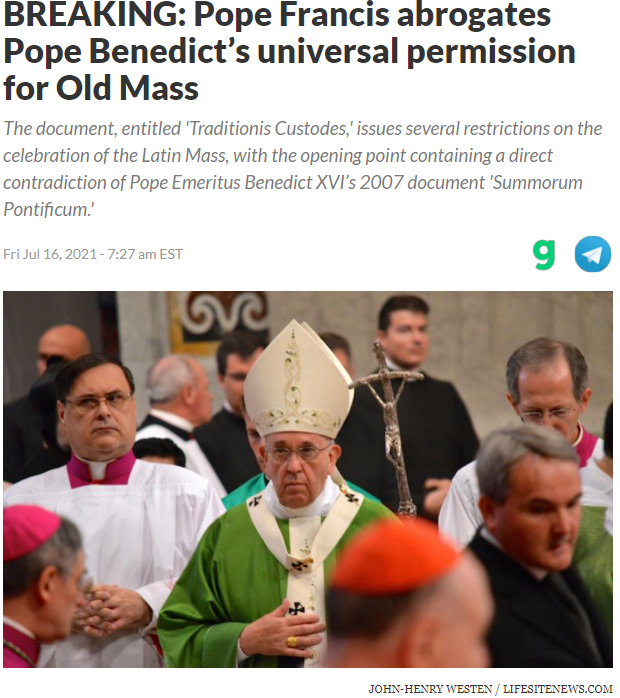 Il commenti apparsi su Lifesitenews sono veramente spassosi. Vedasi il link: https://www.lifesitenews.com/news/pope-francis-abrogates-pope-benedicts-universal-permission-for-old-mass.
Eccone un esempio:
[CharlesMartel] Quite frankly, it boggles the mind that a church which constantly preaches "dialogue", talks about building bridges to the "LGBT community" and opens the ground of the Vatican to Pachamama should adopt such a rigid and uncompromising stance against Catholics who want to practice their faith as it has been practiced for hundreds of years before Vatican II.
There is only one explanation for this hatred of the Latin Mass: the Modernists are building a new church in place of the Catholic church, and all traces of the old must disappear for the project to succeed. Our Lady warned at La Salette that "Rome will loose the faith and become the seat of the anti-Christ". This time may well be now.
I firmly believe that the Covid19 Plandemic and compulsory vaccination are setting the stage for the totalitarian Mark of the Beast system. Seeing the Catholic church trying to demolish what previous generations regarded as sacred is one more sign that we are in the end of times. I hope my analysis is wrong. Many people are not prepared for the return of Our Lord Jesus Christ, and the suffering in the end of times tribulation will be unimaginable.
Reply: Good guess in fact. Bergoglio's hatred against true catholics is cristal clear. There is already a long long list of his personal insults against Catholics. His latest Motu Proprio is just another one!